Today is my 28th birthday. I'll just be spending time with my partner and tiny human. There will also be pizza. And I'm finally getting a new iPhone. Life is good. Didn't know what else to post so I thought a book tag would be fun.
This is the Valentine's Day Book Tag is from Epic Reads.
Here are the questions:
1. First Book Crush – Logan from The Babysitters Club. I thought having a boyfriend like him would be the coolest thing in the world.

2. What book would you want as your Valentine?
This is my favorite book ever, and it just really makes me happy.
3. Candy Hearts or Chocolate?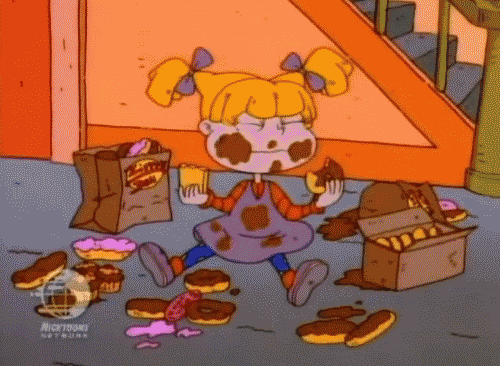 4. What book would you gift to your true love?
Ethan isn't a big reader, but we both love Mr Rogers so I'd give him this book.
5. Favorite Rom-com
The last favorite one I watched was Morning Glory.
6. Best Valentine's Day gift you ever received (or want to receive)
I'm getting the new Sarah J Maas book, and I'm excited about that. It's my birthday so it's never really been about Valentine's Day per se.
7. Favorite thing about Valentine's Day (if you love it) OR favorite thing to do on Valentine's Day (if you hate it)
Eating food with my partner and just being together. This year I'll also get to spend it with Ever and Buddy. I'm so excited.
Today I'll be enjoying my birth. But I'll be back in Sunday to share my last TWO weeks of reading. Did I read a lot?! Possibly. You'll have to come back to find out.